Satisfaction Guarantee
At Regional Wildlife Services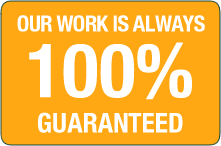 , we take pride in our work. Our customers recommend us because of the quality of service performed and the overall value we deliver.
When we seal off entry points, we'll make sure you are fully satisfied with the installation. Then, we back up our work by providing a 5 year guarantee on all screened areas installed by our animal control and prevention professionals.
Get rid of those nuisance animals and gain peace of mind with the pros at Regional Wildlife Services – a company you can trust, guaranteed!